The Legendary House of Guerlain
Create a Custom Fragrance at La Maison du Guerlain
For almost two centuries, Guerlain has inspired love of everything that beauty encompasses. At Guerlain, custom designed fragrance is a tradition that dates back to 1853. Pierre-François-Pascal Guerlain first created Eau de Cologne Impériale for Empress Eugénie to celebrate her marriage to Emperor Napoleon III. Now, you, through Bonjour Mon Amour, can have the Guerlain perfumer create your "perfect fragrance". A perfume that conveys the infinite nuances of your personality. One that captures for all time what makes you unique...incomparable.
This morning at breakfast, pay particular attention to the scents of the oranges, berries, herbs, and spices. Remember these aromas because today you will visit the world's most famous perfumeries, Guerlain.
Fragrance is the color of a soul and an impression that becomes one with the individual. It is an integral part of our being.
It's a trace of ourselves that we leave in the memory of others. It is a dream shared by many to find their perfect perfume or cologne - The one that complements and enhances all that makes them unique.
---
In 1914, the House of Guerlain arrived to Champs-Elysées at the heart of the thoroughfare that would soon become the most beautiful avenue in the world.
Here, Guerlain invites you to the extraordinary experience of creating your very own signature perfume or cologne.
Reserved for a privileged few, this work of art, the fruit of a close collaboration between Guerlain and you, will be yours exclusively.
---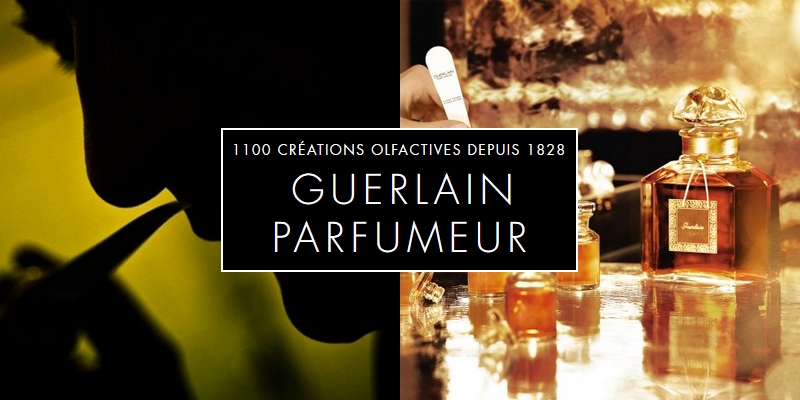 You will enter the inner sanctum where you are guided through the myriad of options that may bring out and enhance all that makes you you.
Like painters of bygone days, Guerlain composes a sensory portrait, unique to you, that will leave an eternal trace in your story and the memory of all you meet.
---
Since its start in 1829, Guerlain has always maintained its production in France and the tradition continues today for both the skincare and fragrance departments of Guerlain.
Both sites benefit from the blending together of craftsman know-how and cutting edge technology.
---
Some details of the experience.