Enjoy panoramic views of Paris from Sacre-Coeur
Visit this beautiful monument to enjoy a spectacular panoramic view of Paris
Sitting atop the Butte Montmartre 130 meters off the ground, Sacre-Coeur is a sight to behold and is the second most visited monument in Paris and the second most visited church in France. Visit the interior of the basilica to view the ceiling decorated with the largest mosaic in France. Visitors can also access the tallest dome where 360 degree views of the city await.
The Basilica of the Sacred Heart of Paris, commonly known as Basilique du Sacré-Cœur, is a Roman Catholic Church and minor basilica, dedicated to the Sacred Heart of Jesus. The basilica is located at the summit of the butte Montmartre, the highest point in the city.
A popular landmark and the second most visited monument in Paris , the Sacre-Coeur is one of the most visited churches in France.
---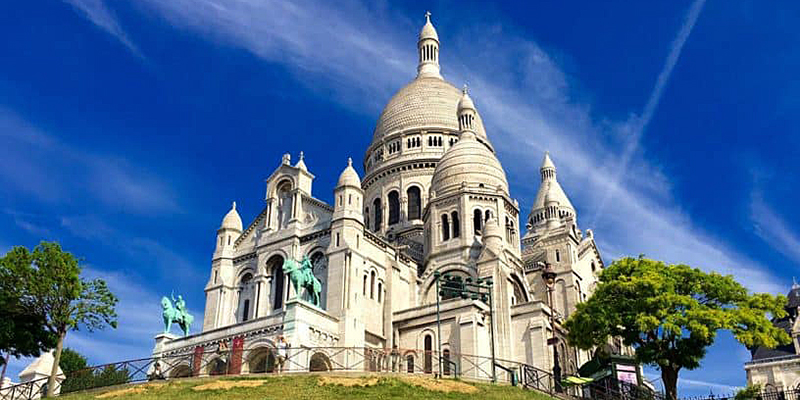 Construction on the basilica started in 1871 and was violently halted two months later by the Versailles.
This action turned the Basilica into the symbol of the bourgeois oppression of the Parisian revolutionary working classes.
Under the command of architect Paul Abadie, the foundation stone was finally laid 16 June 1875. The construction continued in 1876 and ended 1914.
---
The Basilica was consecrated in the year 1919. Both the exterior and interior architecture of the Sacre-Coeur are in Romano-Byzantine style which is in great contrast to the Gothic churches of the Middle Ages like Notre Dame.
---
Visit the dome to enjoy a spectacular panoramic view over Paris.. Or visit the crypt to pay homage to many influential members of The Catholic Church from years past.
---
This video does not represent the actual experience that will be offered. It's purpose is to give an idea of an enjoyable journey as an example.
Our Commitments
Refined journeys with unique access to the best and brightest the city has to offer.
Bespoke and flexible adventures tailored to your unique passions and designed to be shared with the one you love.
Dedicated, unobtrusive, and discreet support for every step along the way.
Memories You Will Share Forever