Catacombs of Paris. Explore this one of a kind city of the dead
Accompany your exceptional tour guide beneath the city streets on a tour of a colossal underground cemetery. Thousands of years of history are encapsulated in the Catacombs of Paris.
Originally created as a system of limestone quarries, the Catacombs were converted into ossuaries in the beginning of the 18th century. Get a new perspective on Paris as you explore this underground cemetery.
Your guide will give you access to parts of the Paris Catacombs that are not available to the general public such as The Port Mahon Gallery, The Quarryman's Path and Gilbert's Tomb. This intimate tour of Paris is one that very few experience.
Object of all the curiosities, the Catacombs of Paris were arranged in the galleries of old quarries whose stones were used for the construction of the capital. The quarrying left empty areas used to create the eighteenth-century ossuary which became the Paris Catacombs.
At 20 meters underground, the ossuary brings together the remains of several million Parisians, transferred between the late eighteenth century and the mid-nineteenth century, as the cemeteries closed due to insalubrity.
---
The ossuary remained largely forgotten until it became a novelty-place for concerts and other private events in the early 19th century; after further renovations and the construction of accesses around Place Denfert-Rochereau, it was open to public visitation from 1874.
Since January 1, 2013, the Catacombs number among the 14 City of Paris Museums managed by Paris Musées. Although the ossuary comprises only a small section of the underground "carrières de Paris" ("quarries of Paris"), Parisians presently often refer to the entire tunnel network as "the catacombs".
---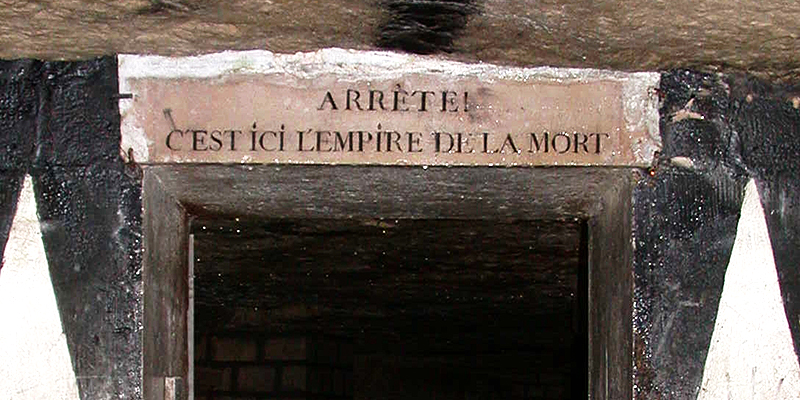 In the long maze of dark galleries and narrow passages, visitors can see a tableau of death with bones arranged in a macabre display of high Romantic taste.
The alexandrine verse "Halt, this is the realm of Death" above the entrance to the ossuary is just one of an extensive series of maxims, poems and other sacred and profane passages giving pause for thought during the tour.
This unusual site movingly brings the history of the Parisian people back to life and takes visitors on a timeless journey.
---
As early as the first century AD, the Gallo-Romans were using this limestone to build Lutetia. From the thirteenth century onwards, the open quarries on the slopes along the river Bièvre were replaced by underground workings to supply the huge quantities of stone required to build Notre-Dame Cathedral, the Louvre and city ramparts.
The supporting pillars, bell-shaped roof cavities, quarrymen's footbath and Port-Mahon sculpture gallery, all of which can be seen on the tour, bear witness to the fact that mining activity was carried out at the site over the centuries.
---
Some details of the experience.