Visit the workshop and gallery in Asnieres-sur-Seine, the former home of Louis Vuitton
Watch as artisans create the finest travel pieces in the world
Since Louis Vuitton first settled in Asnières-sur-Seine, the house that carries his name has built a reputation for innovative design and become synonymous with luxury. The exceptional savoir-faire of the artisans and craftsmen who bring these designs to life are legendary.
Here you can take time to visit with the people who create by hand some of the finest travel pieces in the world. You can also explore the "Galerie" where the personal possessions of princes and maharajas, film stars and couturiers are meticulously conserved.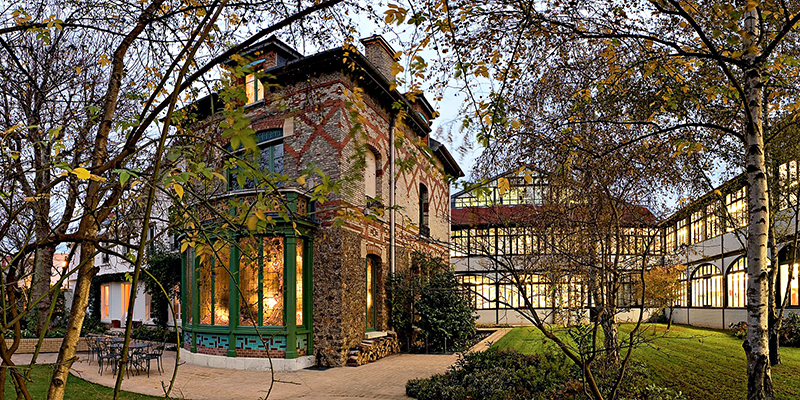 Since Louis Vuitton first settled in Asnières-sur-Seine, the House that carries his name has expanded to incredible places and designed exciting creations.
The focal point of Louis Vuitton exceptional savoir-faire of the Asnières artisans is such that even today, key pieces are created with designs in rare or exotic leathers.
These one-off designs strive for perfection by bringing together technical innovation and quintessential style.
---
Within the gallery in Asnières, Louis Vuitton presents a journey through the history of the House that revisits its landmark innovations in technology and design from the beginning in 1854 to the present day.
The story is told using rare and celebrated objects selected from the Louis Vuitton archive.
---
The exhibition follows a visual timeline of landmark moments in the Louis Vuitton story, demonstrating the ways in which Louis Vuitton has anticipated the needs and desires of a changing world over 160 years generated by technological progress, with imaginative and ingenious new creations.
---
Heirloom designs live alongside some of the House's most contemporary pieces, highlighting the ongoing commitment to constant innovation.
---
This video does not represent the actual experience that will be offered. It's purpose is to give an idea of an enjoyable journey as an example.
Our Commitments
Refined journeys with unique access to the best and brightest the city has to offer.
Bespoke and flexible adventures tailored to your unique passions and designed to be shared with the one you love.
Dedicated, unobtrusive, and discreet support for every step along the way.
Memories You Will Share Forever