Experience modern luxury and style at The Bel Ami
Live in the lap of luxury in Paris
When it comes to 5 star boutique hotels in Paris, The Bel Ami is a one of a kind. With stunning interiors and service that goes the extra mile, everything about this boutique hotel is refreshingly different. Located in the Saint-Germain-des-Près, where intellectuals and artists have been meeting for decades, the Hotel Bel Ami embraces the rich history of its vibrant neighborhood to create a unique experience for its guests.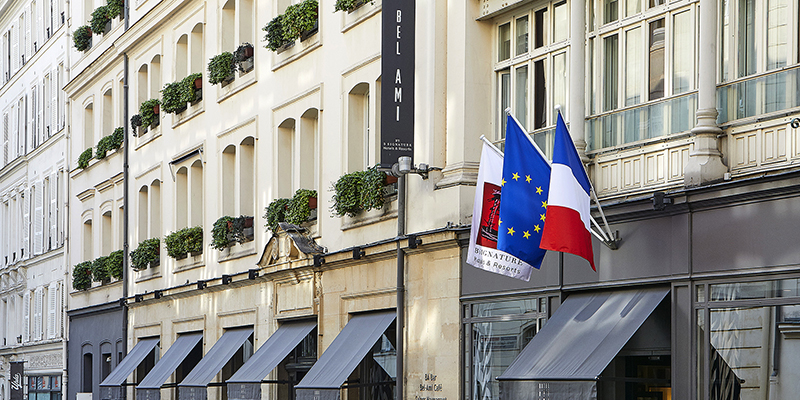 The street in which the hotel is located, was formerly the site of the west wing of the Abbey Saint Germain. In the late 14th century, Pope Alexander III entered the monastery using a door situated in what now is the hotel's lobby.
Two angels engraved in the stonework of the hotel's facade are the only remaining signs of this doorway.
---
The Bel Ami Hotel is very close to the Place Saint-Germain-des-Prés, a few minutes' walk from Café de Flore and the restaurant Les deux Magots, once frequented by James Joyce, Sartre, Hemingway, Picasso and many of the prominent artist emerging at that time.
The Place Saint-Germain-des-Prés continues to attract artists and intellectuals today.
---
The Bel Ami offers a selection of deluxe rooms, each with its own individual style, some overlooking the Place Saint-Germain-des-Prés, offering a view of the oldest church in Paris.
The rooms at The Hotel Bel Ami are comfortable and luxurious making this the perfect home away from home.
---
Find some time for self care while in Paris at The Hotel Bel Ami Spa and Wellness Center.
Take advantage of the state of the art excercise equipment or book an indulgent spa treatment at the spa offering treatments by Carita and Maison Flamel.
---
Some details of the experience.