The Art and Architecture of the Louvre Museum
Our private museum tour and personalize itinerary will save you precious time that could be better spent enjoying the Louvre's many treasures.
The Louvre is the world's largest art museum, housing more than 38,000 objects. It is also, the world's most visited museum, receiving 8.1 million visitors per year. The Louvre, a historic and architectural monument in its own right, is home to some of the most storied pieces of humanity's search for beauty and meaning.
The Louvre was originally built in 1190 as a fortress and was reconstructed in the 16th century to serve as a royal palace.
Several monarchs inhabited the palace each expanding the grounds in succession. In 1682, Louis the XIV moved his home to Versaille and The Louvre became home to various art exhibits. The National Assembly opened the Louvre as a museum in 1793.
---
The Louvre's collection includes ancient Egyptian antiques, paintings from Old Masters, crown jewels, artifacts from French nobles and some of the most famous artistic productions in the world.
The Louvre's works span from the 6th century B.C. to the 19th century A.D. and there are more than 35,000 works on display at any given time.
---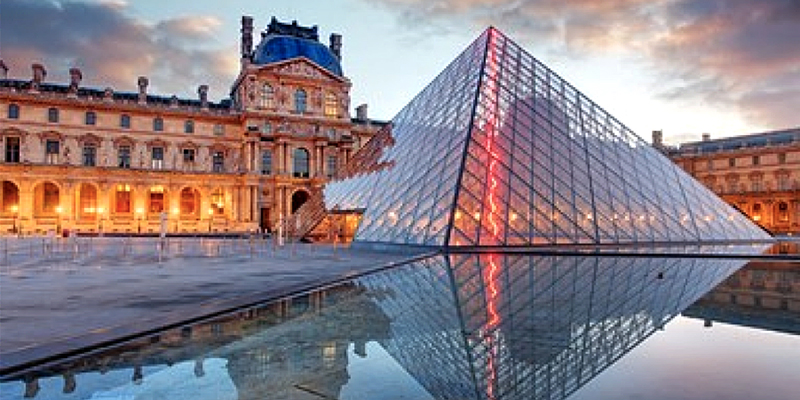 The iconic Louvre Pyramid was commisoned by President Francois Mitterrand in 1984. The structure, designed by Chinese architect, I.M. Pei, is constructed entirely of glass panels and metal poles.
The pyramid was a source of intense controversy for many years but today is a cherished landmark for most Parisians.
---
If the city has inspired artists, the art they created, housed in the Louvre, has inspired the world. Enjoy a privately guided tour to explore the Louvre and all its treasures.
Your guide can ensure you see all of its highlights and hidden gems and will share with you in-depth background information on all the significant periods and pieces of art in the museum.
---
Some details of the experience.