Visit the Pantheon, one of the first monuments in Paris
A masterpiece of the architect Jacques-Germain Soufflot
Climb the approximately 276 steps to the top of the Pantheon to see the best panoramic view of Paris.
Originally built as a church dedicated to Saint Genevieve, the Pantheon now serves as a secular mausoleum.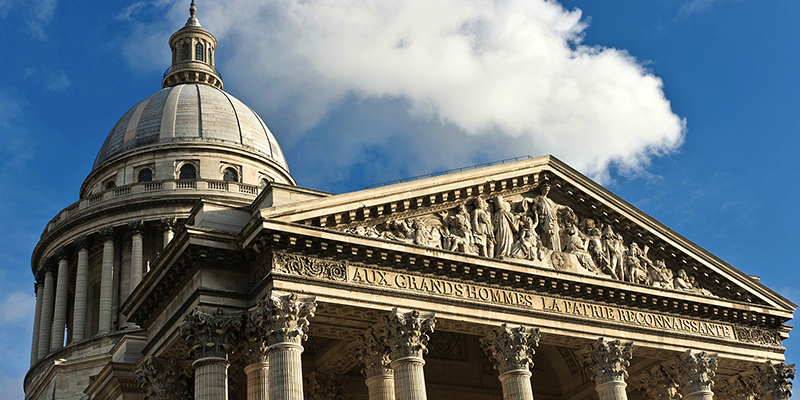 The Pantheon was originally built as a church dedicated to St. Genevieve and to house the reliquary châsse containing her relics.
Reconstruction started in 1758 based on plans by Soufflot to replace the church of Sainte-Geneviève. No sooner was it completed than the Revolution turned it into a pantheon for the ashes of some of France's greatest citizens.
Located in the 5th arrondissement on the Montagne Sainte-Geneviève, the Pantheon looks out over all of Paris. Designer Jacques-Germain Soufflot had the intention of combining the lightness and brightness of the Gothic cathedral with classical principles.
---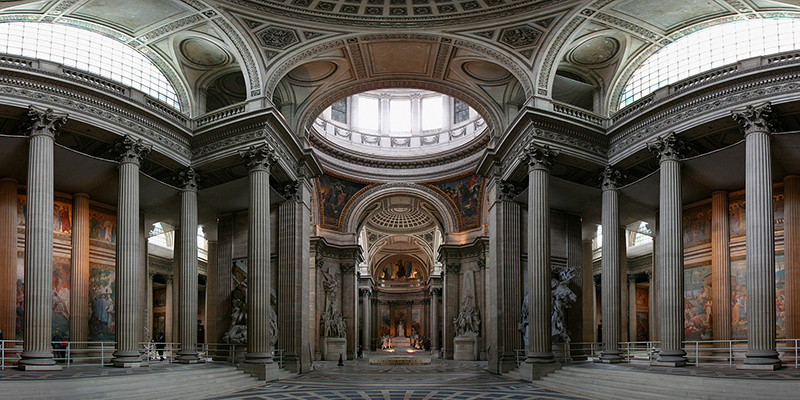 Twice returned to Catholic worship, the monument was deconsecrated in 1885 to receive the body of Victor Hugo. The interior, in the shape of a Greek cross, is decorated with murals, including the life of St Geneviève by Puvis de Chavannes.
It is an early example of neoclassicism, with a façade modelled on the Pantheon in Rome, surmounted by a dome that owes some of its character to Bramante's Tempietto.
---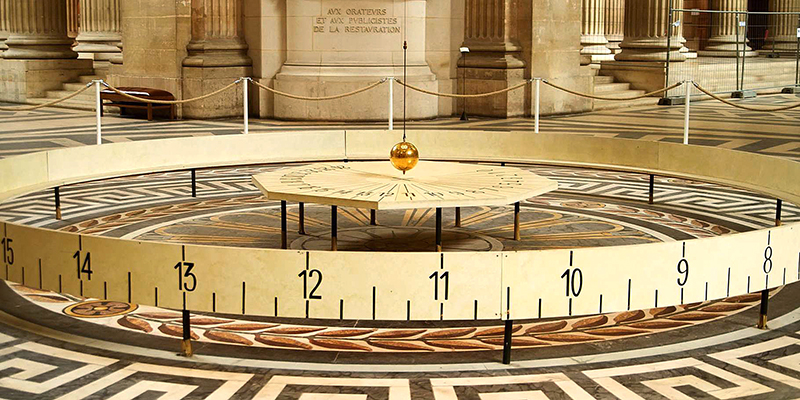 In 1851, physicist Léon Foucault demonstrated the rotation of the Earth by constructing a 67-meter (220 ft) Foucault pendulum beneath the central dome.
The original sphere from the pendulum was temporarily displayed at the Pantheon in the 1990s during renovations at the Musée des Arts et Métiers.
The original pendulum was later returned to its Museum, and a copy is now displayed at the Pantheon.
Since 1920, it has been listed as "a monument historique" by the French Ministry of Culture.
---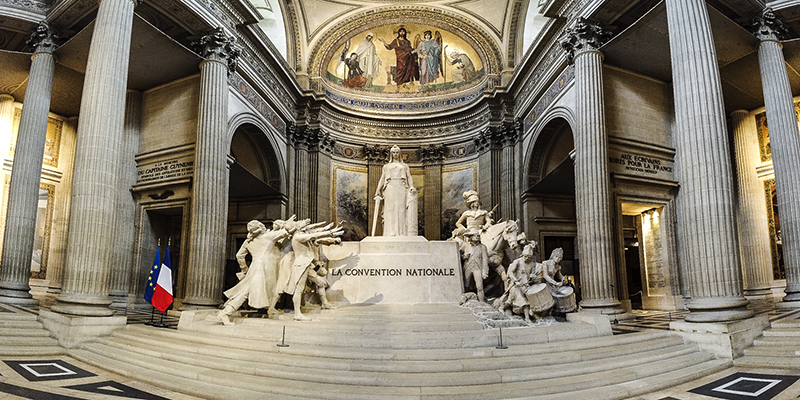 By burying its great people in the Pantheon, the nation acknowledges the honor it received from them.
As such, interment here is severely restricted and is allowed only by a parliamentary act for "National Heroes".
Among those buried in its necropolis are Voltaire, Rousseau, Victor Hugo, Émile Zola, Jean Moulin, Louis Braille, Marie Curie, Jean Jaurès and Soufflot, its architect.
Similar high honors exist in Les Invalides for historical military leaders such as Napoléon, Turenne and Vauban.
---
Some details of the experience.